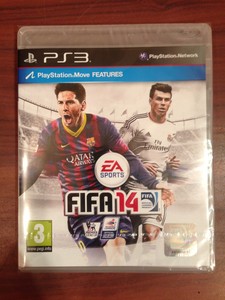 From as far back as i can remember EA have been making their rather excellent football games for the consoles of the time.
Today we at DCEmu get the chance to review Fifa 14 for the Playstation 3. Ive not played Fifa properly since Fifa 11 so it will be interesting to see how its improved since then, graphically it should be just about perfect for what the PS3 can display but its gameplay where it matters, with football games you need to be able to get the feel of the game before you try the more messi type gameplay.
Heres the description from EA of their game:
Fueled by EA Sports Ignite, FIFA 14 will feel alive with players who think, move, and behave like world-class soccer players, and dynamic stadiums that come to life. Players have four times the decision making ability and feel alive with human-like reactions, anticipation, and instincts. With 10 times more animation depth and detail than previous consoles, FIFA 14 delivers the dynamic movements and biomechanics of the world's best soccer players. Players are agile and athletic as they plant, pivot and cut, and explode out of each step. The increased fidelity has a game-changing effect on gameplay. Plus, the artistry and athleticism of soccer will come to life with the addition of hundreds of new types of skills and hundreds of new behaviors. And for the first time ever, fans will feel the electricity of a living stadium as the emotions of new 3D crowds rise and fall around the stories on the pitch.
Pure Shot - Shooting has been transformed. Players have the intelligence to adjust their stride and approach angle to find the best position for hitting the back of the net. Well-hit balls feel satisfying and goals are rewarding. As well as quality strikes, players can now shoot while off balance or rushed.
Real Ball Physics - Strike the ball with more force and finesse. Realistic ball physics now determines the trajectories of balls in game, enabling players to strike the ball with force from distance, drill low rising shots with accuracy, and blast dipping or swerving shots, just like real soccer players.
Protect The Ball - Dominate midfield and dictate the tempo of a match. Fend-off and block defenders from the ball while dribbling at any speed. Protect the ball from opponents to control play through midfield and dictate the pace of the match. Plus, out-muscle opponents for position before receiving the ball, then turn defenders to carve out opportunities.
Teammate Intelligence - Better decision-making delivers tighter, smarter marking and improved run tracking. Defenders recognize opportunities to provide support and win back possession. Attacking players have new ways to outsmart their opponents and break down tighter, more intelligent defenses by creating space for themselves, running along the backline and checking their pace.
Sprint Dribble Turns - Utilize quick, explosive cuts and turns to beat defenders one-on-one while sprinting with the ball. Players can move in any direction, preserving their natural momentum and maintaining possession of the ball.
Variable Dribble Touches - The First Touch Control of dribbling varies a player's touch when dribbling with pace. Skilled players have the touch and control to stand out while less skilled players will experience fewer perfect touches and more uncertainty dribbling, creating opportunities for defenders to win back possession, and placing emphasis on building play through midfield.
2nd Chance Tackles - The tackling zone has been extended to enable defenders to combine different types of tackles, recover from missed tackles quickly, and have a second chance to compete for the ball in any tackling situation.
Curling Lofted Through Balls - Players have the ability to curl the ball around opponents to deliver precision passes to teammates or send the ball into space.
Skill Games - A competitive practice mode that enable players to learn or master the fundamental skills necessary to compete at FIFA 14. Become a better player, faster, no matter what your skill level, competing against yourself or friends in all-new mini-games.
Career Mode - Search for talent year-round with the new Global Scouting Network that brings the world of professional scouting to life. Develop and refine your own scouting network. Evaluate soccer players to uncover the attributes of players who could bolster your squad during the transfer windows. A new hub delivers easy navigation, fewer interruptions and live scouting reports.
Complete Authenticity - All the authenticity EA Sports is known for with officially licensed clubs, leagues and more than 15,000 players.
Review Time
The review itself will be done by both me Wraggster a 40 plus year old whos played games for nearly 35 years and my son Jamie who is 18 and has been playing for nearly 14 years, we are in no way professionals but have a genuine love for decent gaming.
Wraggsters Review


Over the years ive played some excellent football games from the likes of Emlyn Hughes on the Commodore 64, to Sensible Soccer and then to International Superstar Soccer of them all only Fifa and Pro Evolution Soccer exist over the years. I love realism but i want a game where i can ease myself into the game and then play for months. Lets see how this version of Fifa is for me.
Well first off an update, i dont mind as long as it fixes any broken stuff.
As you would expect from a product updated every year the menu system and options are pretty vast. First thing its asking me if im new and i want recommended settings, well thatll do for me.
One thing i dont like from the off is the monetisation in the game, if your paying full price for a game i dont want to see them basicallly trying to grab more for options that should be included.
Online play looks a great new addition to the days when i played, wouldnt want to be paired up with someone who is not in my skills league as it would put me off playing again online.
Overall happy with what im seeing so far, the game has a nice clean look to it with easy to use options for customisation, as with any game you can be as indepth as you like, personally i just want to face Derby County

.
Graphically it looks superb, the in game menus are again very polished and if you have played Fifa before you will feel very much at home, the commentary doesnt sound too annoying either.
The feel of the game is just about right for me, easy to pass but not too easy or too hard that i lose interest, the usual highlights played at half time show off the graphics nicely. Totally enjoyed the match, i lost but feel theres lots to relearn and just updated the sides online, so nice to have the latest squads, pity im not a fan of Barcelona or Real Madrid they both have fantastic teams now. Player likeness seems very good too, nothing worse than someone you know being the wrong colour.
The career mode looks great and very indepth, i prefer playing football manager than doing both but interesting for those who want a lot from the game.
I wrote the rest of this 2 days ago and now im a lot more aquainted with the game, been enjoying the Career mode and the commentary of other matches whilst playing is something ive not tasted before. After playing it more ive grown to admire the game a lot more, the loading between screens is a tad slow and when playing in the rain i feel its overly sluggish the game that it but overall to say ive not played since Fifa 11 then i give this a massive thumbs up.
Any football fan who wants to play the game and enjoy some management features will love this game, hard to see how you can improve any more on the PS3, but then again the PS4 is here now, so it may get so realistic youll think your controlling a live game.
Out of 10 then hmm, a solid
9 out of 10
especially if you havent brought it every year.
Jamies Review


Not that much i can add but the menu lagging is somewhat of a nuisance, one thing that really annoys is that when you foul or get a bit rough youll get carded or a penalty against you but all the time the computer opposition do it to you and no response from the ref.
Saying that though, play the game a few seasons and use the advanced features most notably using the L1 button and the game will warm a lot more to you.
Not quite as good as Fifa 13 so an
8 out of 10
here
Fifa 14 for PS3 is available at
Amazon.Com
,
Tesco
and at
Viking Computers
Thanks to
Viking Computers
for the review sample.